What is Crossfit?
CrossFit advocates a mix of aerobic exercise, gymnastics (body weight exercises), and Olympic weight lifting. CrossFit describes its strength and conditioning program as constantly varied, high-intensity, functional movement with a stated goal of improving fitness, which it defines as "work capacity across broad time and modal domains". Hour-long classes at affiliated gyms, or "boxes", typically include a warm-up, a period of individual or group stretching, a skill development segment, and the high-intensity "Workout of the Day" (or WOD). Performance on each WOD is often scored and/or ranked to encourage competition and to allow individuals to track their progress.
Why should I choose CrossFit Madtown?
CrossFit Madtown has a long history within the CrossFit culture. Opening in 2009, CrossFit Madtown was the first CrossFit gym in Madison and was one of the first few hundred CrossFit gyms in the world out of what is now tens of thousands. Coaches Skipp and Keysha Benzing have been involved with CrossFit since the very early days and were two of the first fifty individuals to be Crossfit-certified by Greg and Lauren Glassman in June 2005.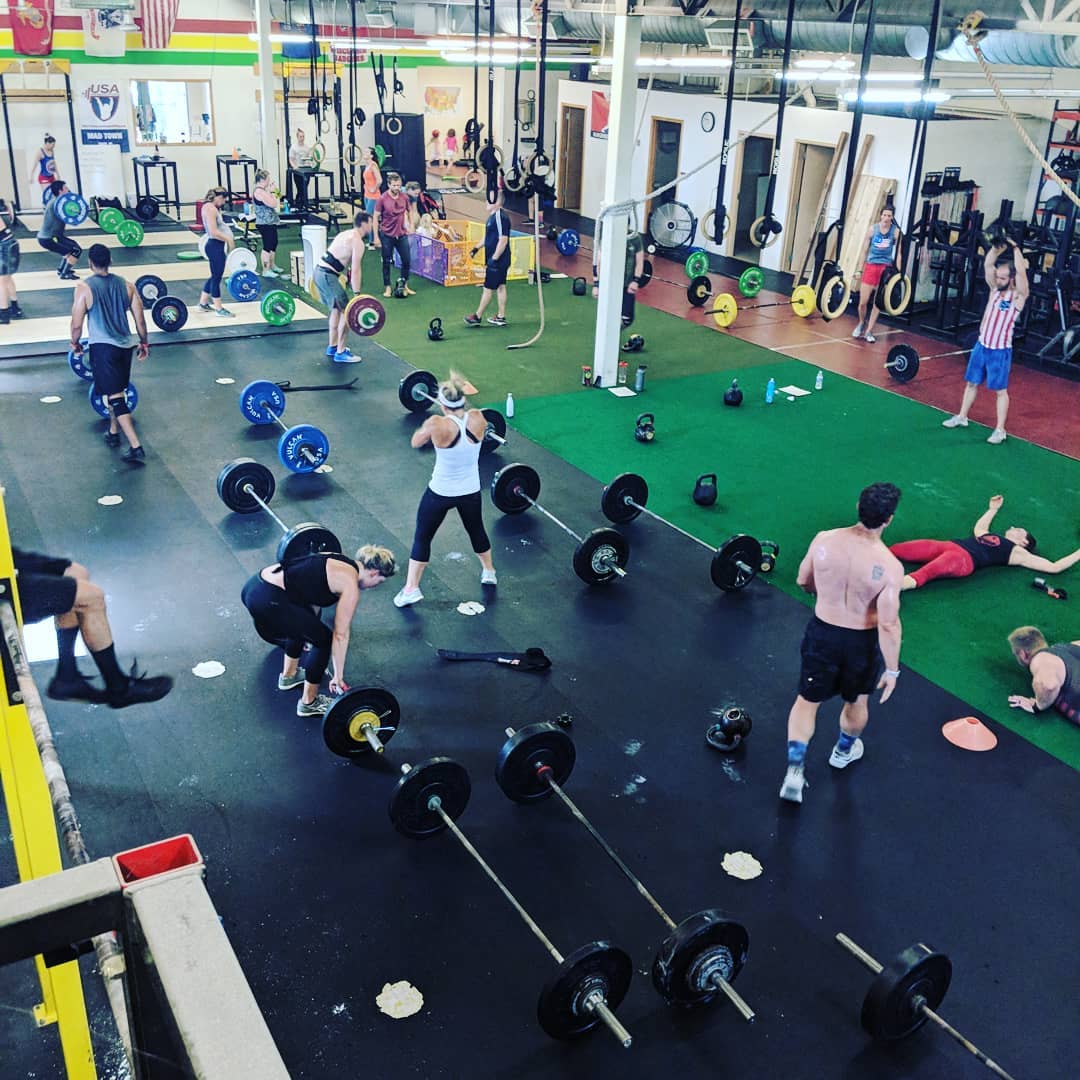 At CrossFit Madtown, we focus on helping you reach your full athletic potential. Whether you have never lifted a weight before or you have been swinging kettlebells for years, we help you improve your form and increase your efficiency.
Do I need any experience?
No previous experience is necessary! Many of our regulars started at CrossFit Madtown with little to no experience. Our coaches will guide you through each workout and help you improve your form and technique during every class. Our coaches train you in everything from strength, to agility, to flexibility, and much more.
How do I get started?
We recommend starting with our Intro to Crossfit class. Most members spend 8-10 weeks in our Intro class before they join the regular Crossfit classes. However, it is not required and, depending on your athletic abilities, you may be able to participate in regular classes more quickly.
The first class is free, so contact us today to sign up!
We offer a wide array of classes throughout the day to suit any schedule. You can view our current class schedule and rates here:
Are you visiting the Madison area from out of town?
CrossFit Madtown would love to host you as your home gym away from home. We offer a variety of drop in packages available to ensure that you can get your WODs in while on the road, with options ranging from a single class to an extended stay punch card.
To be a part of the MadTown Community register here:
Crossfit Classes
Intro to CrossFit
Ages 18+
Our Intro to CrossFit class is a great way to familiarize yourself with CrossFit style training. This fundamentals-focused class is designed for people who are new to CrossFit. It is also perfect for individuals who may need to be closely monitored due to recent injury. We recommend taking this class for at least a month or two to gain familiarity with the different movements that are commonly used in CrossFit before moving into our CrossFit classes.
Your first class is free, so contact us for more information!
CrossFit
Ages 18+
Madtown CrossFit's CrossFit classes provide a strength and conditioning program built on constantly-varied functional movements executed at high intensity. Our program aims to deliver a great workout for any person looking to get fit. CrossFit training combines elements of gymnastics, Olympic Weightlifting, and resistance training with both traditional and non-traditional tools. This approach challenges the body in a variety of ways while remaining both accessible and easily adjustible to suit any level of athlete.